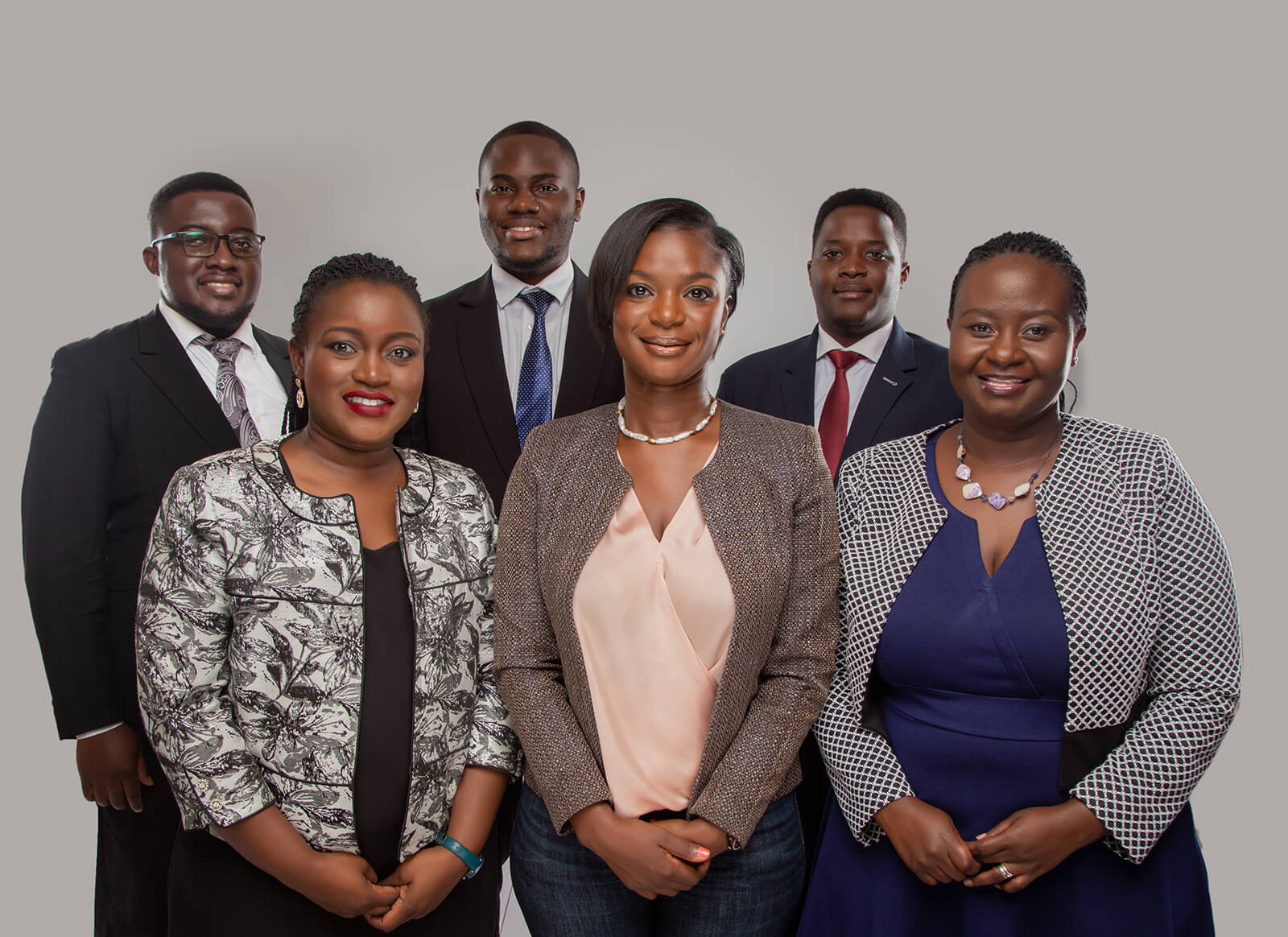 Our people
From Nairobi to Johannesburg, our team has a breadth of experience and exposure leading change across emerging markets.
Amanda Kabagambe

Managing Director

Amanda Kabagambe

Managing Director

Amanda is an economist, management consultant and project manager with over 13 years' experience providing cross cutting advisory services to solve business issues, increase productivity, efficiency and competitiveness of organisations.​

She has extensive experience working with executives in national government institutions, multilateral agencies, the private sector, indigenous organizations, and academia in both advisory and business development roles.​

Amanda has delivered projects and results across various competencies including; capital raising, transaction advisory services, international development project design, market and feasibility studies, data analytics and governance, strategy and operations, enterprise performance management, public policy advisory, technical assistance, project management and change management for transformation initiatives. ​

Amanda previously worked with PricewaterhouseCoopers and Deloitte, leading business transformation and international development assignments. She has been retained by the World Bank, the UK Department for International Development and Umeme Limited to provide strategic advisory services. She is particularly passionate about supporting Ugandan businesses to grow into market leaders and efforts to enable empowerment of youth and women.

Regina Namayanja

Senior Manager

Regina Namayanja

Senior Manager

Regina is a Chartered Accountant with over 15 years professional experience in corporate finance and transaction advisory, financial management, strategy, accounting, and audit.

She has been involved in investment analysis and transaction advisory for target markets including Democratic Republic of Congo (DRC), Liberia, Malawi, Sierra Leone, Uganda, Zambia and Zimbabwe.

Regina's experience spans across various sectors including financial services and Insurance, Agriculture, Manufacturing, Energy, Public Sector, Government and Consumer goods.

Regina previously worked with Deloitte & Touche in Zambia where she was a Senior Manager in the Consulting and Financial Advisory practice and part of the wider Deloitte Africa Corporate Finance pool of experts where she supported both buy side and sell side transactions with market research, financial due diligence, business diagnostics, and financial management reviews.

She also worked with PKF East Africa as an Audit Manager where she oversaw and managed the audit process of various clients ranging from Small to Medium Enterprises to multinationals in varying sectors.

Brenda Karungi

Head of Operations and Administration

Brenda Karungi

Head of Operations and Administration

Brenda is an experienced senior administrator, financial management expert, credit risk assessor and banker with over 13 year's experience. Her experience includes providing technical financial advisory, operations oversight, customer service management, and asset management.

Prior to her current role at Bethel Advisors, she worked at Barclays Bank in retail and SME market segments and held progressive managerial roles. She has proven experience working with SMEs in access to credit, evaluating investment decisions, reporting on commercial performance and advising on competitiveness of businesses.

She is currently engaged in both technical and operational functions of Bethel Advisors Limited. She holds a degree in Information Technology from Makerere University and is currently pursuing a Masters of Science in International Business Management from University of East London, UK.

Matthew Kyeyune

Business Analyst

Matthew Kyeyune

Business Analyst

Matthew is a business analyst with 3 years of experience in business operations and client relations. His current role at Bethel Advisors is to support contextual and relevant business advisory projects for the firm's clients covering but not limited to project finance, feasibility studies, impact assessments and support to businesses' growth and expansion.​

His experience includes market scoping studies, and business and financial analysis across sectors. Matthew previously worked with Elevate Uganda and UAP Old Mutual Uganda where he supported and led business development and market growth strategies by building and managing client relationships.​

He is eager to contribute to business structure, growth, and sustainability. He holds a Bachelor's degree in Actuarial Science from Makerere University.​
Richard Wood

Ex-PwC Partner, Transaction and Board Advisor

Richard Wood

Ex-PwC Partner, Transaction and Board Advisor

Richard is a graduate of Cambridge University and a member of the Institute of Chartered Accountants in England and Wales. He worked for PricewaterhouseCoopers in the UK and in East and West Africa for twenty-three years (including nine years as a partner) and is now a strategic and board advisor to various enterprises including Bethel Advisors.

He has been involved in designing and developing institutional frameworks, policies and strategies, and procedures to support governments contemplating engaging the private sector for the provision of public service. He has significant experience of interacting at a Ministerial and Board of Director levels where his broad cross sectoral experience covers infrastructure, financial services, FMCG, and manufacturing sectors.

Richard holds Non-Executive Director positions on the Boards of a company in the agriculture sector, an electronic stock exchange (regulated by the Ugandan CMA), a bank, a church, and an international school.

Sunil Inamdar FCIM, FCICM

Strategic Advisor

Sunil Inamdar FCIM, FCICM

Strategic Advisor

Sunil is a highly trusted leader and strategic advisor with a 30+ year track record in management consultancy, operational and entrepreneurial acumen provided to clients across four continents. His core areas of expertise include transformation, performance improvement, working capital optimisation and operational excellence.

Sunil has deep-rooted experience in sub-Saharan Africa and a passion for his native Uganda. He is recognised for his exceptional communication skills and cultural dexterity, attributes that he applies effortlessly to build genuine trust in all environments.

Sunil is a Fellow of the Chartered Management Institute and the Chartered Institute of Credit Management in the United Kingdom.

Barry Dyson

Professional Engineer

Barry Dyson

Professional Engineer

Barry is a professional engineer and an internationally recognized expert in the power and energy sector. He has four decades of experience in the sector as both an industry leader and a partner in global consulting firms. Barry has held major positions in the industry, for example leading very significant and game-changing projects during the UK and Nigerian power privatizations.

He has provided and led the design and implementation of transformation strategies with executives, government, and industry leaders in North America, Russia, Azerbaijan, and many European countries. His innovative projects have also been recognized by Bill Gates and the UK Ministry of Defence.

Barry holds an MBA, BA, and PD in engineering.

Kalu Ukoha

Energy Financial

Kalu Ukoha

Energy Financial

Kalu has over 20 years' relevant experience in energy finance, transformation, performance improvement, and compliance. He has done extensive work across many sub-Saharan countries including Uganda, Nigeria, Ghana, Kenya, and Zambia.

He has worked with large utilities to deliver projects in revenue assurance, cost optimization, capital mobilization, sustainability, and M&E. He led the compliance team of the Transmission Company of Nigeria and was responsible for the enhancement of operational efficiency and transparency.

He also played significant roles in the development and implementation of the Nigerian electricity sector reform.

Marilyn Jabo

Finance, Investment Expert

Marilyn Jabo

Finance, Investment Expert

Marilyn is a finance, investment expert, and economist with over 8 years' experience providing investment and advisory services to local and international clients focusing on entrepreneurs with a focus on agribusiness.

In various roles, Marilyn has advised on creating long term and sustainable businesses that are attractive for mid to long term investment and has supported arrangement of up to $1.5m in debt, equity, and grants. She currently supports the UNDP START facility by delivering due diligence and business development services to beneficiary SMEs.

She holds a Masters of Science in Finance from the University of Bradford, UK, and studied International Risk Management in European Banking at Toulouse Business School in France.

Stephen Nash, FCA

Energy Economist

Stephen Nash, FCA

Energy Economist

Stephen is a seasoned energy economist and transaction advisor with 15 years of experience. He has worked globally in the energy sector. Recently Stephen has worked primarily in sub-Saharan Africa but also brings experience from Asia and Europe, including the UK.

He has worked on projects with many of the active donors in the region, including the World Bank, AfDB, IRENA, USAID, and DFID. Stephen's work combines advising on policy and regulation in the energy sector with commercial and financial advisory work, with a focus on structuring deals and regulation to achieve the desired policy outcomes.

He holds a BSc and is a Fellow of the Institute of Chartered Accountants in England and Wales (ICAEW).